Sania Quit Tennis?
Recent case against sania make her so depressed that she even said that she may quit tennis, can you believe it? Yes it happened.
But don't worry, at last she reveal that she will not quit tennis right now as she is only 21+.
Peoples who are not aware of the fact may think what was the case that force her to take the heart broken decission (for sania as well as tennis lover like me). So, here it is..
Only a picture create a situation like that. It shows that at the time of Hop Man Cup sania's bare feet taking rest infront India's national Flag. One of the guy filed a case against her for showing disrespect to motherland. It makes her too much sorry, she didn't do that eagerly (peoples should understand it). then for the last few days she faced problems & for this reason she took that decission.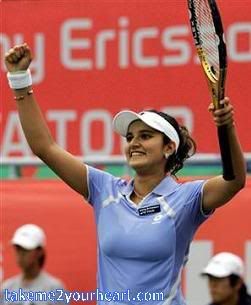 >> Sania Don't Quit Tennis Right Now.
>> We are with you.
>> Make India proud for yourself.